Theophila was a silver tabby she-cat with yellow eyes. She traveled to the land on the first Fleet to land in the Bay Area. After the rise of Ambrose, she was one of the others that rose to power. She claimed the eastern streets of the Twoleg town.
The she-cat became known for her ambitious ways and her rash decisions. She started the long war against the other three clowders when she killed Joseve in cold blood. During this war she managed to hold the upperhand, and eventually it fazed out as the rival groups joined under hers.
By her death in the the 1770s, she had named her eldest daughter Lorelei as her heir. But before she passed away, Theophila named her empire the Masons. When she did pass away it was from old age, and to her kin it was a great loss. To the cats of the town it was a relief.
Description
Appearance
Coming Soon
Character
Coming Soon
Abilities
Coming Soon
Biography
Childhood
Coming Soon
Adulthood
Coming Soon
Quotes
Coming Soon
Trivia
Coming Soon
Images
Life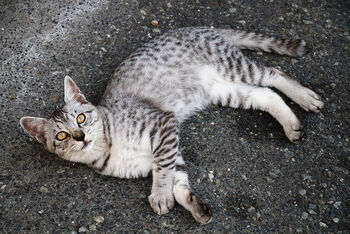 Pixels
Please do not edit this gallery unless instructed to.